A deadly 6.4 magnitude earthquake hit the central island of Lombok, Indonesia, on Sunday, July 29, 2018.  World Neighbors (WN) works in several villages on this island which is located 25 miles east of Bali.  Over the last few days, we have been in regular contact with our local community-based partner from East Lombok regarding the earthquake.  We work with three of the most affected villages (Madayin, Dara Kunci, and Sugian).  These three villages, along with a fourth neighboring village, Obel, suffered almost all the impact.  Tremors from the e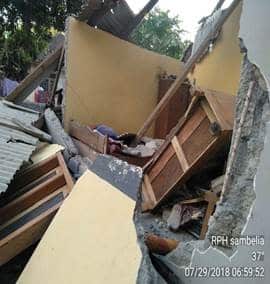 arthquake were felt in Bali where WN's regional office is located.
This earthquake was followed by more than 60 smaller earthquakes and caused landslides on Mount Rinjani where more than 500 hikers were stranded and had to be rescued.
We learned from our office in Bali that over 5700 people have become refugees from the affected program villages.  There have been several deaths recorded and many people have suffered from severe, as well as minor, injuries.  Many homes in the villages (close to 1200) were heavily damaged and there have been several schools that were also badly damaged.
We are working closely with our  local partners in East Lombok in providing assistance as the island recovers from this disaster.