World Neighbors' staff include five U.S.-based employees and 52 employees in the field who are predominantly from the countries where they work. Approximately 40 local partner organizations help train thousands of volunteers and leaders in Asia, Africa, Latin America and the Caribbean.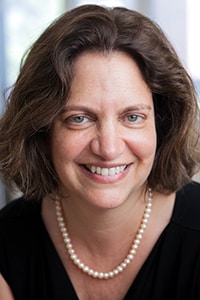 Kate Schecter, Ph.D.
Chief Executive Officer, President
Kate Schecter, Ph.D., joined WN as President and Chief Executive Officer in June, 2014. Dr. Schecter is responsible for managing World Neighbors' programs and operations in 14 countries in Asia, Africa, Latin America, and the Caribbean. In her previous position, she worked for the American International Health Alliance (AIHA) for 14 years.  As a Senior Program Officer at AIHA, she had responsibility for managing health partnerships throughout Eurasia and Central and Eastern Europe.  Through her work with over 35 partnerships addressing healthcare and treatment, she has extensive experience successfully implementing AIHA's health partnership model.
From 1997 to 2000, Dr. Schecter worked as a consultant for the World Bank specializing in healthcare reform and child welfare issues in Eurasia and Eastern Europe.  She taught political science at the University of Michigan in Ann Arbor for four years (1993-1997).  She has written extensively about healthcare in post-Soviet states, and has made three documentary films for PBS. Over the past eight years at World Neighbors, Dr. Schecter has authored or co-authored 21 articles about the challenges of international development in very poor rural countries, the impact of climate change, and how to help alleviate mass migration through effective international aid.
Dr. Schecter holds a Ph.D. in political science from Columbia University and an M.A. in Soviet Studies from Harvard University. She is a member of the Council on Foreign Relations and served on the Board of Children's National Medical Center in Washington, D.C. from 2010 to 2018.
Robert Lachance, CPA
Chief Financial Officer
Robert Lachance, CPA, joined World Neighbors (WN) as Chief Financial Officer in 2010, bringing his extensive experience in maximizing the financial operations of an international corporation.  Under his leadership, WN gained and has maintained elite status for sound fiscal management with national and international nonprofit watchdog groups including Charity Navigator, GuideStar and CharityWatch.
Before joining WN, Robert spent 18 years with Pfizer, Inc, with international assignments including (a) overseeing the implementation of new financial systems in Pfizer's European, Middle East and African markets and (b) providing expert financial oversight and guidance to Pfizer's Sub-Sahara Regional Organization in Accra, Ghana; Nairobi, Kenya; and Lagos, Nigeria.  He also worked as Audit Manager for Coopers & Lybrand in New York City and Assistant Controller for the University of Dallas.
Robert holds a Bachelor degree in psychology and a Master of Business Administration degree in business finance from the University of Dallas.  His continuing education credentials include an advanced certificate in Accounting, Tax & Law from St. John's University in New York.
Jenifer Davis
Accounting and Office Manager
As the Accounting and Office Manager for World Neighbors, Jenifer oversees the international accounting for the organization and also manages day-to-day operations of World Neighbors headquarters. Jenifer has experience in corporate and not-for-profit accounting and holds a degree in business management from the University of Oklahoma.
Srijana Karki
Regional Director for South Asia
Srijana Karki leads World Neighbors office and programs in Nepal and India as the Regional Director for South Asia.
Srijana brings over 13 years of experience to World Neighbors in leading and managing projects and programs in the development field. She has worked for various organizations holding different portfolios as team leader, consultant, trainer, facilitator, assistant manager, program coordinator and program officer.
Prior to joining World Neighbors in 2012, Srijana worked for Underprivileged Children's Educational Programs, a national non-government organization in Nepal; Training for Employment Project, a project of the Swiss Agency for Development and Cooperation in Nepal; Butwal Power Company, a pioneering and leading hydro-power company with over 300 staff members; and Alliance Nepal for Social Mobilization, a consulting firm working in the field of training. In addition, Srijana has extensive experience with major clients in research, project and program design, planning, implementation and facilitation.
Srijana holds a Master's Degree in Business Administration from Tribhuvan University, Nepal.
Chris Macoloo, Ph.D.
Regional Director for East Africa
As Regional Director for East Africa, Chris develops and manages the area programs and represents World Neighbors in East Africa through strategic networking, partnership and collaboration.
Prior to joining World Neighbors in 2003, he served as a consultant for many development organizations on diverse issues such as program evaluation and organizational capacity assessments. Chris also worked for five years in Kenya as a program officer and deputy country director for SNV/Netherlands Development Organization. Before that he had worked for two years as a program officer for Intermediate Technology Development Group, an international development agency with headquarters in the United Kingdom, where he was responsible for shelter policy and programs in Kenya.
Chris brings to World Neighbors over seven years of professional development experience in a multi-cultural environment of international non-governmental organizations, as well as over ten years of university teaching, research and publication at the University of Nairobi, Kenya. He obtained his Ph.D. degree from Cambridge University in urban geography and planning. He is a Fellow of Cambridge Commonwealth Society.
Do Christophe Ouattara
Regional Director for West Africa
Do Christophe Ouattara leads World Neighbors' office and programs in Burkina Faso and Mali as Regional Director for West Africa since 2021.
He joined World Neighbors in 2016. Prior to that, he worked for more than 20 years in the ministries in charge of the rural sector (Environment, Water, Agriculture and Livestock) in Burkina Faso. During this period, he held several positions including that of national director of aquaculture for more than 4 years. In the field of project and program management, he was national coordinator of development projects, notably with the Canadian Center for International Studies and Cooperation (CECI) for 3 years, the Japan International Cooperation Agency (JICA) for 3 years and the Food and Agriculture Organization (FAO) for one year. He also worked as a fisheries specialist for a food security improvement project funded by the World Bank for one year.
Do Christophe holds a diploma of fisheries engineer (Higher Institute for Fishery Sciences and Techniques, Mauritania), a Master's degree in Aquaculture (University of Liege, Belgium) and a Master's degree in Project Management (New Dawn University, Burkina Faso).
Lionel Vigil
Regional Director for Latin America and the Caribbean
As Regional Director for Latin America and the Caribbean, Lionel Vigil represents World Neighbors and provides program management and leadership support in four countries: Bolivia, Guatemala, Haiti and Peru.
Before joining World Neighbors in 2012, Lionel worked for several international development organizations. Lionel began his career in international development as a volunteer at the Casa Latino Americana in London, UK, after completing his university degree in midwifery. Lionel was a senior education specialist in the South American office at the Stromme Foundation. He served as the national coordinator for the program Inclusive Creative Industries: an innovative strategy for poverty alleviation in Peru at The Food and Agriculture Organization of the United Nations.
Lionel holds a university degree in education as well as a master's degree in development studies, specializing in population and development from the International Institute of Social Studies of Erasmus University Rotterdam in The Hague, the Netherlands.