Two World Neighbors women were recently recognized in a book highlighting successful women and their stories – A Women's Guide to Power, Presence, and Protection: 12 Rules for Gaining the Credit, Respect, and Responsibility You Deserve.
These women are creating lasting change and empowering women all around them.  Read their profiles below:
Srijana Karki
Srijana Karki is the regional director of South Asia for World Neighbors (WN), guiding WN projects in India and Nepal and coordinating with government officials, donors, and other NGOs.
Every year WN's programs improve the lives of tens of thousands of people in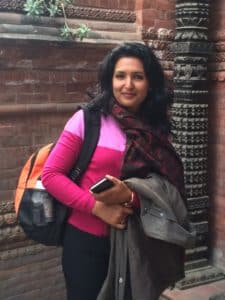 small communities and rural areas. The approach to empowering rural women and small farmers is holistic and impacts sustainable agriculture, economic self-reliance, and reproductive health, plus water and sanitation.
Srijana was raised in Kathmandu. She does not remember seeing any women in power of leadership positions and did not have a mentor or sponsor growing up. Somehow, though, she was imbued with a strong feeling of independence. She was rebellious and insisted on participating in the same activities as the boys in her family and community. This was accomplished by a fierce determination not to be defined or confined by her culture.
A major decision, which put her on the road to independence, was to go to university. She made this decision without consulting her family. Her educational journey included an MBA from Tribhuvan University. After her MBA, she worked at a variety of roles but lacked passion and purpose.
At that point, she was exposed to efforts groups were making to empower rural communities. She was impressed by the women she met who were committed to bettering the lives of their families and communities. It has been said that the two most important days in your life are the day you are born and the day you find out why you were born. Srijana discovered why she was born: she committed to raising women's voices. This has allowed her to witness the transition of women who initially were afraid to speak up in their own families, yet they developed the courage and skill to represent their village in discussions with government officials.
Although Srijana did not grow up with female role models, she has become one. Recently she was visiting a village at a moment where one of the women participating in the project work had recently given birth to a daughter. When Srijana arrived, the new mother asked her if she would touch the baby—because she wanted her to grow up to be a leader like Srijana.
Judith Atyaug Obari
Judith Atyaug Obari is the trust manager of the Akukuranut Development Trust and a member of the board of directors of Alupe Sub-County Hospital and World Neighbors Kenya. In all of her roles, she focuses on education, reproductive health, and HIV prevention. Her calling in life is to encourage women to overcome intimidation, stand up, and speak out. In recognition of all of her contributions, in 2018 she received the Best Person in Kenya award.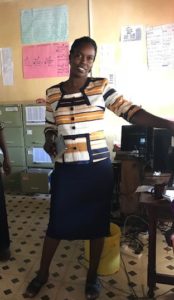 Judith remembers that when she was 10 years old, she "wanted to be somebody." She did well in school, but her education might have ended after primary school because of the fees required to continue. Fortunately one of her aunts came forward and sponsored her education. Judith made the most out of this opportunity. She worked hard, did well, and went on to the University of Nairobi and then postgraduate work at Busoga University. When she was 26, she did an internship with a group that provided support to orphans, vulnerable children, AIDS patients, and sex workers. This became a key turning point in her life and put her on the path to encourage and empower women.
Judith has many qualities that make her so successful: intelligence, work ethic, an ability to build cohesive, effective teams, and a strong determination to leverage the strength of "sisterhood."
Two attributes make her a role model for many women. Judith is confident and bold. Even as a young woman, she was a leader of a team of men, almost all of them older than she was— something very rare in Kenya at that time. Judith's life and impact provide a vivid example of the power of decent boldness.
Every day she strives to transfer this boldness to the women she works with on her projects. Judith often remarks, "Women need to come up" and overcome intimidation. This includes standing up and speaking up together.
"It is in the strength of sisterhood that women find their voice."
These profiles were published in A Women's Guide to Power, Presence, and Protection: 12 Rules for Gaining the Credit, Respect, and Responsibility You Deserve by Mónica Bauer, Marty Seldman, Paula Santilli and Jovita Thomas-Williams available here.