Since COVID-19 hit, households in developed countries have been planting kitchen gardens. For some, this provides necessary food in the face of economic upheaval.  But for most, it's a pleasant way to spend time while confined to home.
Not so in developing countries like Nepal.   There, a kitchen garden is a key part of adequate nutrition and food security.
Even more, a kitchen garden can be the first step up the economic development ladder and out of poverty.  It can even break social class/caste boundaries.
Laxmi B.K., age 35, lives in the rural village of Sindhupalchok in Nepal.  She is a member of the Dalit community of Chautara sangachokgadi Municipality, ward number 4.  Dalit persons were once called "untouchables," a very offensive and now unacceptable term in Nepal.   But while the term is gone, many of the attitudes and barriers remain.
Laxmi was married at the age of 13.  By 18, she was the mother of three children.  Her household chores, including walking 3-4 hours a day to collect water and venturing into a jungle to collect fodder, left Laxmi virtually no time to care for her children.
Laxmi's was an arduous life of unending work.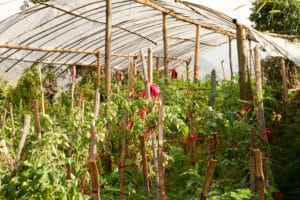 Staff from World Neighbors, a small NGO that has worked in Nepal for decades, visited her village.  Laxmi joined a savings and credit group formed by World Neighbors and its local partner.   These groups pool small investments from participants and offer loans at very low rates.   Funds are used to invest in farm implements, water-holding ponds, greenhouses and other simple innovations that raise productivity, output and profit.
Savings and credit groups also provide training, including on sustainable agricultural production.  Laxmi took every class on offer—water management, worm composting, basic bookkeeping, and more.
After the training sessions, she constructed a small plastic pond from resources available at her home. This pond holds wastewater from a kitchen sink and rainwater.   Laxmi then planted a kitchen garden–vegetables such as chilis, tomatoes, cowpeas, beans, onions and broad leaf. The garden is entirely organic and irrigated with the nutrient-rich wastewater from the plastic pond.  Water is available nearly year-round, which lengthens the growing season.
Prior to training and modest investments, Dalit and others in Laxmi's village did not grow or buy vegetables.  Most families lived on rice with chili and salt.  Vegetables were occasional treats.
She and her family now have abundant and nutritious vegetables nearly year-round.  Even more, Laxmi sells surplus production in the local market.   Laxmi earns hundreds of dollars a month from her vegetable sales.  This is a substantial sum in her village.   She no longer asks her husband for money. Nor does the family need to turn to moneylenders and their exorbitant interest demands.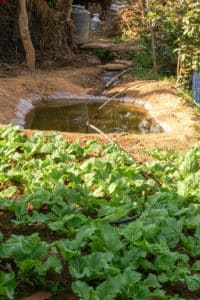 Over the years Laxmi has borrowed from her savings and credit group and purchased additional land for vegetable cultivation and sales. Other Dalit in her village have received training and started their own kit
chen gardens.  Led by Laxmi, they have come together in a group to promote their activities and receive training on water, safety and sanitation (WASH), reproductive health and other topics.
Laxmi has registered her community development group with the municipal and tax offices.  Her group is now able to apply for publicly available health and other funds.  This integration into public structures is a key to sustainable development.
Laxmi's financial and leadership success has been transformative.   It has guaranteed her family's food security, significantly improved her standard of living and created opportunities to interact with people well beyond her village.   This includes persons who once hesitated to spend time with those once derogatively dismissed as "untouchable."   It has also changed her relationship with her spouse and other men in her village.
In the developed world, kitchen gardens are a fun hobby.    In developing countries, they can be a first step on the road to economic and social development for many communities, including those that have been historically marginalized.