Burkina Faso's economy is based on agriculture. The only effective way to raise incomes is to increase agricultural output and productivity. This can be done with low-cost innovations.
Innovations like the Kenya Top Bar Beehive.
This is a particular type of hive popularized in Kenya.  It's a trapezoidal hive usually made of wood with wooden bars to which the bees attach their combs.  The hive is unusually favorable for honey production, which is high in both quantity and quality.  The design makes harvesting honey easy.
They Kenya hive is usually made of wood.  In Burkina Faso, international development organization World Neighbors has introduced farmers to a clay hive.  Clay hives can be produced for $20, compared to $72 for wooden hives.  Villages purchase the hives with loans from savings and credit groups, in which they deposit very small amounts each month. Loans taken out at low interest are paid back from profits from honey sales.
Given the productivity of the Kenya hive, beekeepers can harvest honey—and other products– every quarter. Farmers harvest on average 30k of raw honey.   If sold in this form, farmers earn $7.68 per kilogram.
With more investment, farmers can become extractors.  From 30k of raw honey each quarter, these producers obtain 8 liters of filtered honey, which sells for $6.72 per liter.  They also extract and sell wax used to make soap and other products.  Wax is sold for $38- 48 per kilogram.  Finally, there is other residue that can be used or sold as animal feed.
Efficient Kenya beehives are an easy and low-cost way for farmers in Burkina Faso to diversify their output and significantly increase income.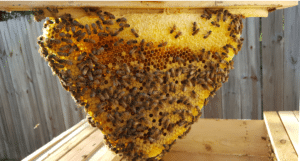 This article originally appeared on FarmersReviewAfrica on September 7, 2022.