Chemical pesticides and fertilizers can be problematic—they are dangerous to ingest, they contaminate soil and plants, and they are dangerous to store and use.  In poor, rural communities around the world, World Neighbors (WN) is helping farmers to abolish the use of these harmful chemicals.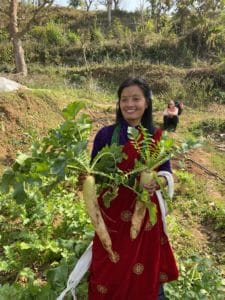 In Nepal's Kavre district, farmers use goat and other animal urine as natural pesticides.
Farmers collect urine and ferment it in simple plastic containers, including discarded plastic water bottles. These same bottles are then used to apply the urine to fields, which repels nearly all damaging pests.
Animal urine pesticide has no direct costs.   By cutting out chemical pesticides and fertilizers, Nepali farmers cut their costs and increase their profits.    Growing enough produce for household use and sale in local markets is especially important during the pandemic.   Organic agricultural methods enhance resilience to all manner of external shocks.
Laxmi BK is one of the women farmers working with WN in Nepal.  She is using the organic pesticides and fertilizers and her vegetable business is thriving.  In addition, she is helping other women to learn the fermentation technique:
"I, along with my group members, have continued vegetable cultivation and earning a stable income from selling the surplus. During this lockdown, I did not have to go to the local market to sell my vegetables – all of them were sold in neighboring villages. People came to my field to buy the vegetables. This reminded me of the past where people like me from the Dalit (untouchables) community used to buy vegetables from our neighbors. Now I am selling vegetables to them. Sometimes I just gift them vegetables that I grew.  People do not discriminate against me anymore as even higher castes are buying vegetables from me.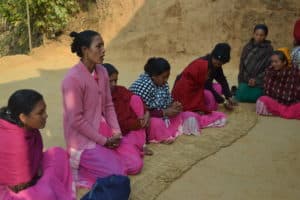 In this season, our group applied to the ward office for vegetable seeds and all of us (group members of the savings and credit group which she heads) received a variety of vegetable seeds for free.  We have had good income from these vegetables.  I have a daughter studying in grade nine. I am so proud to cover her stationery and other costs related to school.  All my expenses are covered by the income from the vegetables. I hardly used to set foot outside my community – now that I am chairperson of the savings and credit group – I am confident to go to the ward or municipality office and apply for the government schemes and registration renewal.  We have been able to access government resources regularly and bring programs to our community. I plan to link our group with the local cooperative."